Muffins come in all shapes and sizes! what I love the most about this homemade activity is that the children are directly involved. Once this activity is done and the children find out how-they meticulously inspect and report every broken crayon for the next crayon muffin batch. Cute, huh?
This activity actually does go beyond cute when it comes to learning.This is what our children are learning from making crayon muffins:
What Kids Are Learning:
Hand-eye coordination
Cause and effect
Small motor skills
Large muscle skills
Color mixing
Color recognition
How to Make Kids Crayon Muffins
Materials Needed:
Pieces of left over crayons, oven, Muffin Baking Tin (Seasonal shapes work great, too)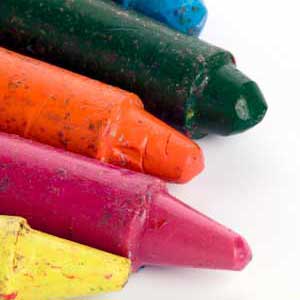 Add a sprinkle of glitter for glitter crayons!

Process:

Have the children save and sort broken crayons into the different colors. Any larger pieces the children can break or hammer in a plastic baggie (kids love this). Have the children place the bits of crayon in the muffin tin, about 3/4 full. Bake them for 5-8 minutes at 350 F. If it's possible to walk with the kids to the kitchen, the anticipation and giggle factor increases dramatically.

The Procedure:

After they cool we love to inspect the crayon muffins at circle time. We try to recall which ones we worked on as well as personally name our own concoctions.

Here are some names the children came up with:




Purple

llow

ink


Incidentally, I am still trying to master

'

Crayon Rocks'. If you know how to do them, pleeeese let us know. Cheers!